The right television mounts can enhance your viewing pleasure.
It's cool to hang a flat-panel TV on the wall. It saves space, puts your prized possession out of harm's way and lends a clean, modern appearance.
In order to attach your TV to the wall, you'll need to invest in some type of mounting hardware.
Prices range from $50 all the way to a few thousand dollars, depending mainly on how much weight the mount can hold and its functionality. You'll find styles to accommodate any size, make or model of TV, as well as the viewing environment and your viewing preferences. 
Manufacturers, including Chief Manufacturing, OmniMount Systems, Premier Mounts, Sanus Systems, and others, offer mounts that can be installed by do-it-yourselfers.
"We include all of the hardware you'll need, even a drill bit to make sure you drill the right size hole," says Erick Valkingburg, sales operations manager at OmniMount. Additionally, many DIY mounts have helpful post-installation features that allow you to adjust the position of mount up, down, left or right slightly after the TV has been attached.
One common installation snafu, says Ryan Hagberg, marketing manager at Sanus Systems, is a misaligned mount. "The wall plate of the mount might look perfectly level after you've installed it, but once the TV's on it doesn't look right." A feature like Sanus Systems' Pro technology, lets you tweak the alignment of the mount without having to remove the TV or redo your work. 
Still, most manufacturers admit that in many situations the installation of a wall-mounted TV is best left to a professional. "Big, heavy TVs are particularly hard to handle," says Valkingburg, "and some wall surfaces, like masonry and stone, require special anchors."
Plus, there's all that cabling to contend with. "People tend to forget about the fact that the TV will need to plug into a power outlet and be connected to source components," says Elliott Wier, custom installation director at Gramophone, Timonium, Md. "This is why it's good to bring in a professional."
No matter how you plan to tackle the project—by yourself or with the help of a pro—it's up to you to decide which type of mount to use. Here are your options:
Fixed mount: Generally the least expensive type of mount, a fixed mount attaches the TV permanently to the wall. It's a good choice for rooms where watching TV is the main activity and where bright lighting won't interfere with the picture. A fixed TV is ideally mounted at a height that's directly at your eye level when you're seating on a couch. The seating arrangement should be one in which you'll be able to view the TV from nearly straight on, as once the TV is affixed to the mount, it can't be turned, swiveled or pulled out to be viewed from the side.
Low-profile mount: This is a type of fixed mount, designed to complement newer ultra-thin flat-panel TVs, places the TV nearly flush with the wall surface. Mounts in Chief Manufacturing's Thinstall Series, for example, protrude less than a half-inch from the wall. Keep in mind, however; most low-profile mounts aren't able to carry the weight of TVs larger than 70 inches. "A TV this big will probably require the bigger brackets of a standard fixed mount, says Wier.
Recessed (in-wall) mount: A low-profile mount maximizes the thin lines of a flat-panel TV, however, with limited space between the wall and the TV, it can be difficult to stuff all the necessary cabling behind the set. For this reason, some professional installers prefer to use a recessed mount. This type of mount requires the construction of a wall cavity between the wall studs. This cavity affords room for cabling, outlets and power/surge conditioners, as well as the mount itself. Attached to the mount, the TV sits completely flush with the wall surface.
Tilting mount: Some fixed mounts (as well as articulating mounts) have this feature which allows the TV to be tilted up or down slightly. It's a feature that can minimize glare and improve the viewing angle if the TV is mounted high on the wall—like above a fireplace mantle. "It provides some additional flexibility without adding a lot of cost," says Valkingburg. A tilting mount costs 10 to 20 percent more than a fixed mount.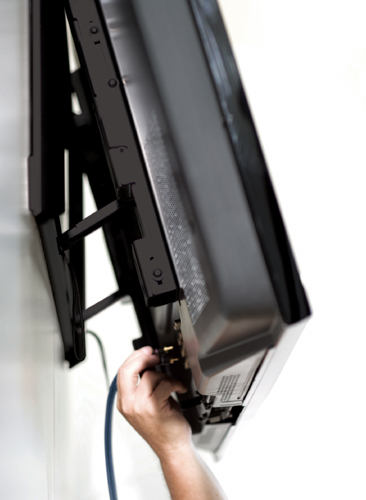 Articulating mount: In addition to being tilted, an articulating mount can be extended from the wall by several inches and swiveled to face any direction. These capabilities make it an ideal choice for environments where there is more than one viewing location. In a great room, for example, the TV can be rotated toward the kitchen, later angled toward the dining area then placed back on the wall for viewing from the couch. Additionally, an articulating mount allows you to place your TV in a less than ideal location—like a corner—and still be able to view it perfectly by moving it into a better position. Expect to pay about twice as much for an articulating mount than a fixed mount, says Hagberg.
Motorized mount: Operated by remote control, a motorized mount may sound like a lazy-man's solution, but it can be helpful if your TV is mounted high on the wall or you'd like to be able to extend and swivel your family room TV from the kitchen, for example.
Other important features:
• Cosmetics: This is particularly important if you're buying an articulating mount. When the TV is extended you'll be able to see the mounting hardware, so be sure you're happy with the cosmetics.
• Cable management: A mount should make accommodations for cabling. For example, the extension arms of Sanus Systems' mounts are hollow so that the cabling can be hidden inside. Also, you may need cable accessories such as right angle adapters (pictured) for HDMI so the cables don't impede the mount's ability to be closer to the wall.
• Accessories: You might want to attach speakers or a Blu-ray player to your flat-panel TV. Make sure brackets can be added to your mount for these and other components.

by Lisa Montgomery
http://www.electronichouse.com/article/twists_and_turns_on_the_road_to_perfect_viewing/
Custom Installation Services, LLC – Home Theater, Audio and Video Services, Automation  in North Carolina and South Carolina