Examples of how cookie-cutter lighting control solutions can't cut it.
The lighting requirements of every homeowner are unique.
Cookie-cutter lighting control solutions just don't cut it anymore.
We collected some of our favorite lighting control installs, including a Super Bowl MVP, Rock and Roll Hall of Famer and quirky product inventor.
So whether you're adding lighting control yourself or with the help of a CE pro, here are a few ideas to get your brain pumping.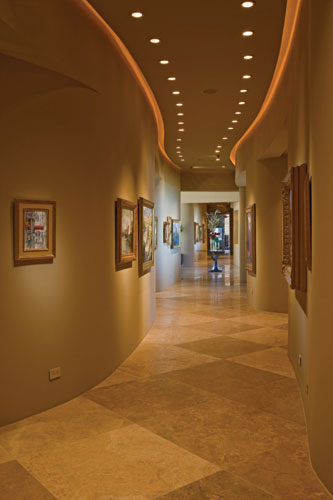 Scenes Setting Control
A little lighting control goes a long way toward simplifying life in this 17,000-square foot home. The hallway lighting brightens gradually to preset intensity levels at the touch of a button tied into the Crestron automation system.
An "Entertain" scene adjusts the brightness levels of select lights to accentuate the home's unique architectural features, while also opening the motorized draperies to provide a view of the mountains from the floor-to-ceiling windows. A "Good Morning" scene switches on fixtures in certain rooms.
A "Goodbye" scene sweeps through the house to ensure that every light is turned off during the owners' absence. "Goodnight With Guests" switches off every light except for the fixtures in the guest suites and hallways.
Controlling an Island
Segway inventor Dean Kamen owns a lighthouse home on the North Dumplings Island. A couple of years ago, the U.S. government cut the undersea cable that powered the lighthouse, forcing Kamen to rely on solar panels to power his home.
Philips Color Kinetics, makers of LED, helped Kamen with his goal "to design and build the world's neatest home lighting system." An LED Light System Manager from Philips now controls the island's color LEDs and can modulate each bulb to control brightness, generate different colors from the red, green and blue LEDs.
Bright Lights of Hollywood
It took more than just pretty lighting effects for this Hollywood Hills home to win Electronic House's Home of the Year. A Vantage lighting system, controlled by Crestron automation, includes various scenes that light up or accent specific areas of this 7,000-square-foot residence. It provides both practical and architectural enhancements.
Controlling LED
This was an enormous LED retrofit – to the tune of about $60,000 worth of energy-saving improvements.
"Everything about the project was big," says Mark McGuinness of Chesley Electric in Park City, Utah, of this 16,500-square-foot home that recently won Lutron's Excellence Award for Best Green Project.
A big portion of the savings came from Chesley replacing all the system's halogen lighting, inside and out, with LEDs from LED Power. Adding LED bulbs in a dimmable lighting control system is not an easy trick.
The Lutron HomeWorks system is able to dim the 300 or so MR16 lights, but not the recessed PAR lamps. So Chesley programmed the lighting control system to shut off the PAR lamps during certain dimmable scenes. For example, in the kitchen, when a SOFT scene button is pressed, the MR16s over the cabinets dim, and the six receding PAR lamps shut off.
Light My Way
It's not always easy to navigate a 12,000-square-foot home, so Shelton, Conn.-based Advanced Home Audio provides some trails.
A connection between a Vantage lighting control system and AMX home control system allows the family to brighten, dim and turn on and off more than 200 interior and exterior lights.
Pathways, which illuminate a route between rooms, can also be engaged from a touchpanel. The system maps out a course to the destination automatically, based on where the user is. For example, if the user activates the "Movie" path from the kitchen touchpanel, lights leading from the kitchen to the home theater switch on.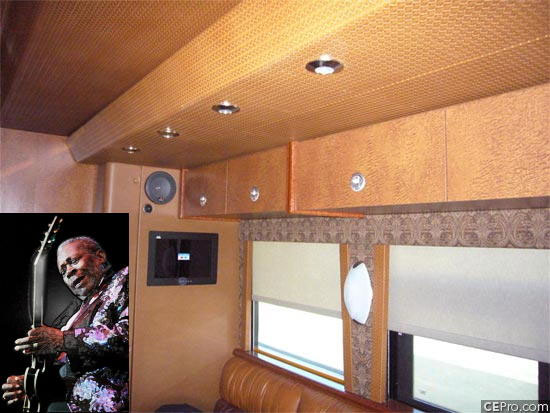 No Lighting Control Blues
When you're an 84-year-old blues legend who still loves performing enough to tour the country, you deserve nice accommodations.
So it's good that B.B. King's $1.4 million, 45-foot luxury motor coach with more than $200,000 worth of electronics includes some solid lighting control. It uses a proprietary 12-relay lighting control system that was designed by Digital Home Lifestyles, which controls the 64 zones of lighting.
Quarterback-Approved Control
Total home control was Eli Manning 's overwhelming priority when the Mannings gutted and renovated their 3,000-square-foot condo. Eli and his wife wanted one-touch control of audio, video, motorized shades and lights. The couple worked with Audio Video Crafts, using both Lutron and Crestron components to design the system.
by Tom LeBlanc
http://www.electronichouse.com/article/7_cool_lighting_control_ideas/
Custom Installation Services, LLC – Home Theater, Audio and Video Services, Home Automation  in North Carolina and South Carolina